Cape Breton Piano: Joey Beaton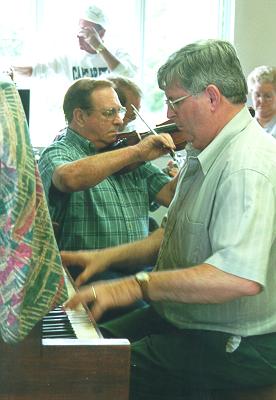 Joey Beaton with John Campbell at Céilidh Trail School in July 1999.
Joey is the son of the late fiddler Donald Angus Beaton and brother of Kinnon Beaton. Some have called him the "Jerry Lee Lewis of Cape Breton Piano" because of his intense style.
He is from Mabou where he has produced a wonderful series of weekly family céilidhs for many years.
He has recorded with many Cape Breton artists including Ashley MacIsaac, Jerry Holland, Buddy MacMaster, Stephanie Wills and Brenda Stubbert. He is a composer of many tunes as well.
He says he began playing when he was about 13, and that once he had worked out a tune he played it for his dad, who found it good. 40 years later, he's still playing.
He is also a vibrant and effective teacher. He and his fiddler wife Karen have done excellent presentations of the unique Gaelic aspect of Cape Breton Violin, and he has taught both at the Céilidh Trail School and the College at St Ann.
---
To Home of Piano in Traditional Cape Breton Music
To Cape Breton Piano: Some Players Past and Present
---
Disclaimer: I am not an expert in the history, theory, or playing of Cape Breton Style piano accompiament. I am an eager student. If you find errors, lies, damn lies, ommissions etc etc etc within these pages, please do call it to my attention!

Le gach beannachd,
Roger Lane Reid
ro@rreid.net